Bristol Coat of Arms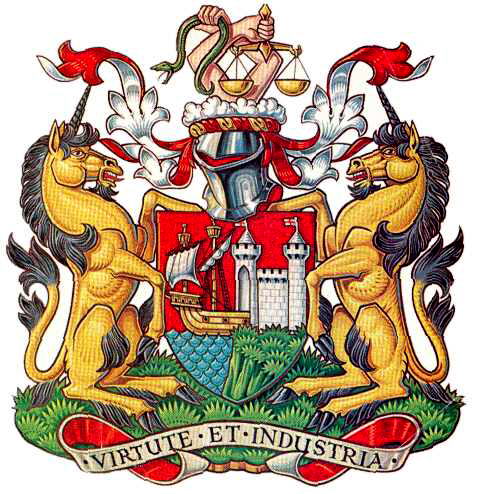 The arms are based on the early seals of Bristol, from which the ship and castle theme (signifying a strongly fortified harbour) developed. The shield was in use from about the 14th century, and to this was added in 1569 supporters (the two unicorns) and the crest (two arms rising from the clouds holding scales and a serpent). The significance of these various items is recorded in the City Audit Books of this time:- the Unicorns will only do homage to men of virtue; the arms in the crest signify that good government depends on wisdom (the serpent) and justice (the scales) and that these are divine gifts from above.
Each IBD County Page has or will have (where possible) the relevant Coat of Arms. This is made possible thanks to a fantastic heraldry website called the International Civic Heraldry Website. Sometimes a description is not given due to lack of information, so if anyone could help it would be greatly appreciated. You may visit this superb site by using the link below.
©2008 to Present Date IBD Internet Business Directory™