Caerphilly Coat of Arms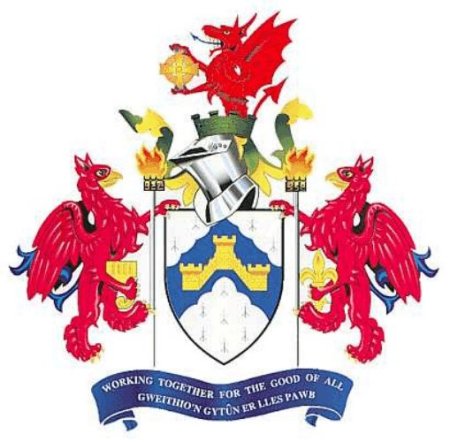 The ermine shield with blue invected chevron symbolise the area's natural beauty and many rivers. The castle represents Caerphilly castle, one of the largest in Europe. It also stands for the Borough's history in general.
The crest rises from a green mural crown, and represents gwent county council. The red dragon of Wales holds a Celtic wheel cross. The cross formed the centre of Islwyn's arms, and symbolises the long history of Christianity in the area. The supporters are taken from Islwyn's arms where they were coloured black for the Morgan family. The clarion comes from Mid Glamorgan's arms and the fleur-de-lis from Gwent's. The cressets are for the traditional heavy industries of the district.
Each IBD County Page has or will have (where possible) the relevant Coat of Arms. This is made possible thanks to a fantastic heraldry website called the International Civic Heraldry Website. Sometimes a description is not given due to lack of information, so if anyone could help it would be greatly appreciated. You may visit this superb site by using the link below.
©2008 to Present Date IBD Internet Business Directory™