County Waterford Coat of Arms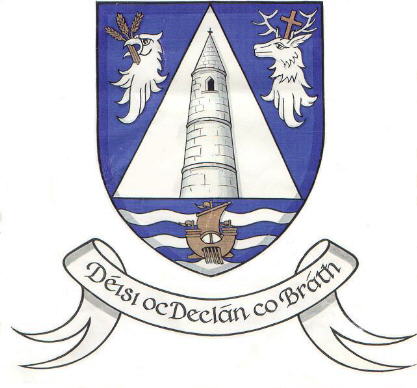 The Coat of Arms was adopted by the Elected Members of Waterford County Council on 9th June, 1997. Saint Declan is represented in the design by the symbol of the round tower which recalls the celebrated monastic foundation at Ardmore. It is interesting to note the motto 'Déisi oc Declan co Brath' is taken from a ninth century life of Saint Decian with the text in the Old Irish and means 'May the Déise remain with Decian forever'.
The IBD Home Page and each IBD County Page has or will have (where possible) the relevant Coat of Arms. This is made possible thanks to a fantastic heraldry website called the International Civic Heraldry Website. Sometimes a description is not given due to lack of information, so if anyone could help it would be greatly appreciated. You may visit this superb site by using the link below.
©2008 to Present Date IBD Internet Business Directory™