East Lothian Council Coat of Arms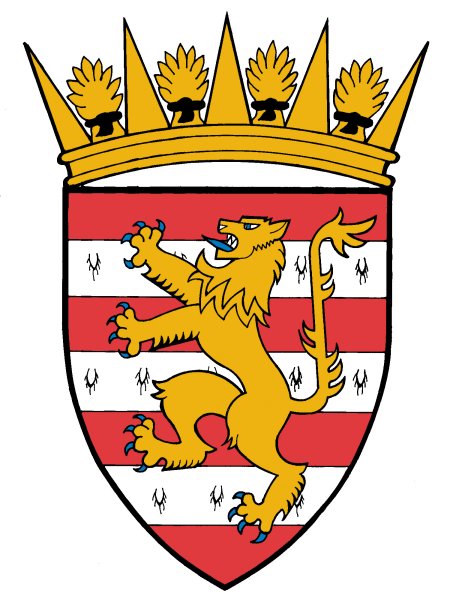 East Lothian Council took over the coat of arms granted to East Lothian District Council in 1974, which had in turn been granted to them by East Lothian County Council, where it had been in use from 1927. The original shield had no coronet. At local government reorganisation in 1974, a coronet of thistles, common to all district councils in Scotland, was added. In the subsequent reorganisation in 1996, a new coronet, representative of Scottish Unitary Councils like East Lothian, was added - the tied sheaves of corn signifying the rural elements of the area and the 'spikes' or points, representative of landward areas.
The red and ermine field comes from the Arms of the Giffords of Yester, a family granted lands in East Lothian by King William the Lion (1165-1214) and now represented by the Marquess of Tweeddale. While the lion could recall the King, since the original County buildings in Haddington occupy a site said to have been that of his palace, it was in fact chosen in reference to the ancient Earldom of Dunbar, the celebrated East Lothian family of Maitland of Lethington, the Earls of Wemyss and March and Sir Archibald Buchan Hepburn, since a lion rampant appears in all of their coats of arms.
Today, the coat of arms is normally only used for ceremonial purposes, while the Council's falcon logo is used as the main brand image.
The Council's heraldic crest is granted by the Lord Lyon, King of Arms for the sole use of East Lothian Council. It should only be reproduced with the permission of East Lothian Council and its application is governed by strict guidelines. IBD has been granted such permission and would like to thank the Council for permission to display the coat of arms and supply the above information. You may visit the Council's web site by using the link below.
The IBD Home Page and each IBD County Page has or will have (where possible) the relevant Coat of Arms. This is made possible thanks to a fantastic heraldry website called the International Civic Heraldry Website. Sometimes a description is not given due to lack of information, so if anyone could help it would be greatly appreciated. You may visit this superb site by using the link below.
©2008 to Present Date IBD Internet Business Directory™