Gwynedd Coat of Arms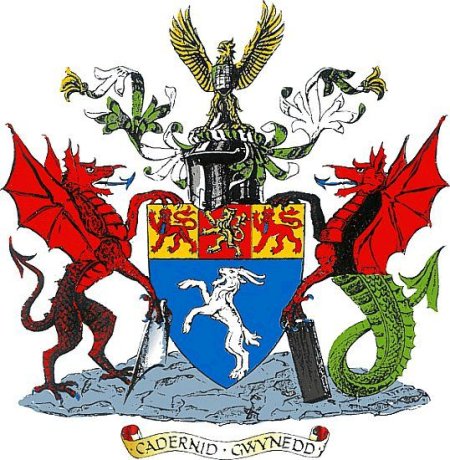 The arms combined parts of the arms used by the three County Councils of Anglesey, Caernarvon and Merioneth. The white goat on blue was from the arms of Merioneth, the two red lions on gold were from the Caernarvonshire arms and the red lion on gold from those of Anglesey. The eagle came from the arms of Owain Gwynedd. On the eagle's breast was a shield bearing a representation of the Eagle Tower at Caernarfon. Merioneth's arms were supported by two red dragons and Caernarvonshire's by two sea dragons. One of each was used in the new design. They supported a plough share and a piece of slate to show the importance of agriculture and slate quarrying to the County's economy.
Each IBD County Page has or will have (where possible) the relevant Coat of Arms. This is made possible thanks to a fantastic heraldry website called the International Civic Heraldry Website. Sometimes a description is not given due to lack of information, so if anyone could help it would be greatly appreciated. You may visit this superb site by using the link below.
©2008 to Present Date IBD Internet Business Directory™