Hampshire Coat of Arms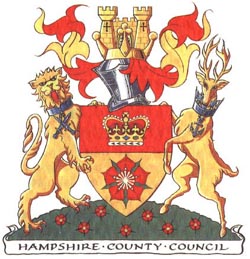 The arms were granted on July 13, 1992. The rose is the Lancaster rose, which has been used by Hampshire for many centuries. Why the rose was adopted is not certain. One account holds that the rose was granted by King Henry V after the battle of Agincourt.
Each IBD County Page has or will have (where possible) the relevant Coat of Arms. This is made possible thanks to a fantastic heraldry website called the International Civic Heraldry Website. Sometimes a description is not given due to lack of information, so if anyone could help it would be greatly appreciated. You may visit this superb site by using the link below.
©2008 to Present Date IBD Internet Business Directory™