Isle of Anglesey Coat of Arms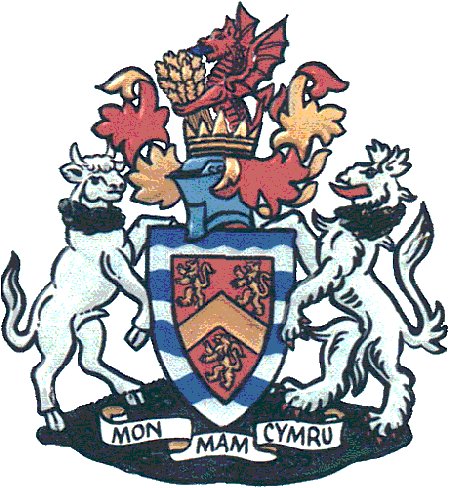 The arms were granted on April 9, 1954 to the Anglesey County Council. In 1975 it was transferred to the Ynys Môn Bourough and in 1996 to the Isle of Anglesey County Council. The shieled shows the attributive arms of Hwfa ap Cynddelw, founder of the I Noble Tribe. These arms are surrounded by waves to indicate the island of Anglesey.
The mantling is taken from the arms of the Princes of Gwynedd, who lived in Anglesey until 1277. The Welsh Dragon supports a wheatsheaf in reference to the rich soil on the island. The white bull is derived from the arms of the Bulkeley family of Beaumaris and symbolises the agriculture on the island. The tiger is taken from the arms of the Marquess of Anglesey. The bull wears a collar from seaweed as a symbol for seafaring, the tiger has a collar of oak leaves. The latter refer to the former position of the island as a stronghold of the Druids, for which the oak is a sacred tree.
Each IBD County Page has or will have (where possible) the relevant Coat of Arms. This is made possible thanks to a fantastic heraldry website called the International Civic Heraldry Website. Sometimes a description is not given due to lack of information, so if anyone could help it would be greatly appreciated. You may visit this superb site by using the link below.
©2008 to Present Date IBD Internet Business Directory™