Kincardine Coat of Arms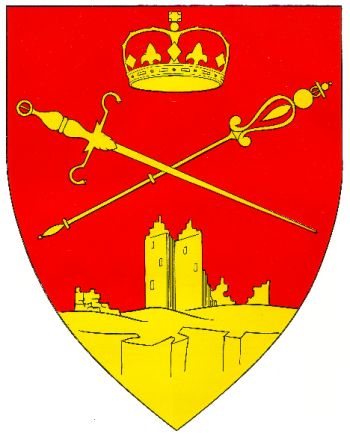 These are the arms of the Kincardine County Council, I cannot find arms for the County of Kincardineshire.
The arms were granted in 1927, the motto is 'Laus Deo' (Praise to God), taken from the arms of the Viscount of Arbuthnott, as the 14th Viscount was Lord Lieutenant of the County.
The arms show in the upper part the sword, crown and sceptre of Scotland, and in the base Dunottar Castle. The arms refer to a very important event in Scottish history. In 1651 William Keith, the 6th Earl Marischal, took the Scottosh regalia to Dunottar Castle for safekeeping against the army of Oliver Cromwell. The castle was subsequently besieged and the changes of holding the castle were slim. The castle governor, George Ogilvy of Barras and the minister of nearby Kinneff parish, James Granger, mananged to smuggle the regalia out of the castle and buried them under the floor of the parish church. They remained there safely until restoration of the monarchy in 1660.
The IBD Home Page and each IBD County Page has or will have (where possible) the relevant Coat of Arms. This is made possible thanks to a fantastic heraldry website called the International Civic Heraldry Website. Sometimes a description is not given due to lack of information, so if anyone could help it would be greatly appreciated. You may visit this superb site by using the link below.
©2008 to Present Date IBD Internet Business Directory™