Kinross and Perth Area Council Coat of Arms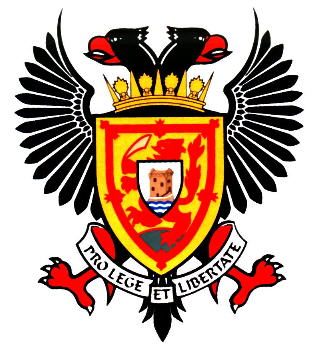 The arms were granted on February 9, 1977 and again on May 8, 1996. These arms are a combination of the arms of the Counties of Perthshire and Kinross. The arms of Perthshire showed the Scottish lion on a mount and brandishing a scimitar, ready to defend the Country. The arms were placed on a double-headed eagle, which is also continued in the new arms. The arms of Perthshire date already from the 17th century and were officially granted in 1800 with a Royal tressure of Scotland. The escutcheon shows the former arms of the Kinross County; the Loch Leven Castle standing on an island. This is the castle in which Mary, Queen of Scots, was imprisoned and forced to abdicate in 1567, and from which she escaped in 1568. The motto 'For Law and Liberty' is also taken from Perthshire.
The IBD Home Page and each IBD County Page has or will have (where possible) the relevant Coat of Arms. This is made possible thanks to a fantastic heraldry website called the International Civic Heraldry Website. Sometimes a description is not given due to lack of information, so if anyone could help it would be greatly appreciated. You may visit this superb site by using the link below.
©2008 to Present Date IBD Internet Business Directory™