Manchester Coat of Arms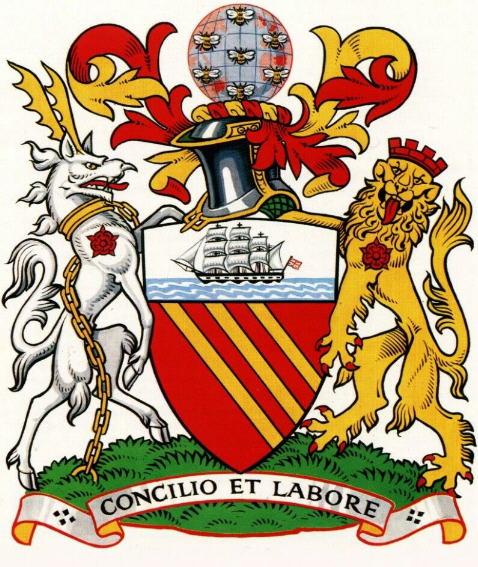 The arms were granted in 1842. The golden bends in red are derived from the arms of the Lords of Manchester, who ruled the city prior to 1301. The chief shows a ship in full sail, a symbol of trade and enterprise.
The crest shows a globe covered with bees, representing the world, to all parts of which the goods of the city are exported. The bees are a symbol of activity. The supporters, an antelope and a lion, are derived from the arms of King Henry IV, Duke of Lancaster.
The motto means 'By council and work', and is derived from a phrase in Ecclesiasticus 37:16 : 'Let reason be the beginning of every work and let counsel go before every action'.
Each IBD County Page has or will have (where possible) the relevant Coat of Arms. This is made possible thanks to a fantastic heraldry website called the International Civic Heraldry Website. Sometimes a description is not given due to lack of information, so if anyone could help it would be greatly appreciated. You may visit this superb site by using the link below.
©2008 to Present Date IBD Internet Business Directory™