Newcastle upon Tyne Coat of Arms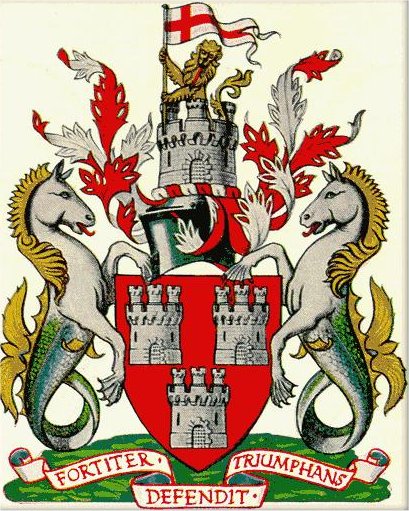 I cannot find a Coat of Arms for Tyne and Wear, and the matter is further complicated by 'Teeside', so I have depicted the arms below as Newcastle is the largest town in the area, with a splendid coat of arms and a good description.
The arms were granted on August 16, 1575 and confrimed in April 1954. The three silver castles on a red shield are boldly drawn with heavily masoned portcullised gateways and machiolated battlements behind which, on each, rise three lofty towers. The castle motif goes back to earliest times for originally the town took its name from the 'new Castle' built by order of Robert Curthose, eldest son of William the Conqueror, in 1080 and a castle was depicted on the twelfth century common seal. The earliest extant example of the three silver castles on a red shield, dating from about 1400, is in the window on the north side of the Chancel on St. John's church.
The castle motif is repeated in the crest which is a golden demi-lion issuing from a silver castle. His forepaws grasp the golden staff of St. George's pennon depicted in a red on a silver ground. The castle stands upon a wreath of red and white above a tilting helmet, with eye slit of fifteenth century style.
The supporters, two mythical sea-horses, gracefully drawn and shaded in green with fold manes, fins and tails, are a reminder that Newcastle is a seaport. Both the supporters and crest were added to the shield - 'the most ancient insignia or arms', by grant of William Flower, Norroy King of Arms, dated 16th August, 1575.
The motto, 'Fortier Defendit Triumphans' (Triumphing by Brave Defence) was adopted during the Civil War, probably following the stubborn defence of the town against the Scots in 1644.
Each IBD County Page has or will have (where possible) the relevant Coat of Arms. This is made possible thanks to a fantastic heraldry website called the International Civic Heraldry Website. Sometimes a description is not given due to lack of information, so if anyone could help it would be greatly appreciated. You may visit this superb site by using the link below.
©2008 to Present Date IBD Internet Business Directory™