Northumberland Coat of Arms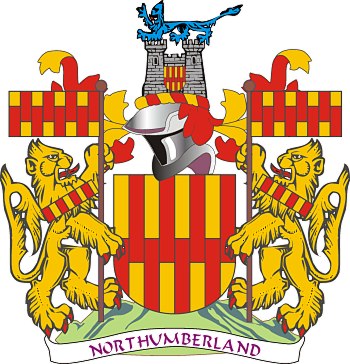 The arms were granted in 1951. Before this the Council used the attributed arms of the Kingdom of Bernicia - paly of eight Or and gules. In the official grant this has been altered to represent Hadrian's Wall and the English / Scottish border.
The crest is based on the old badge of the county Sherrifs. The blue lion with extended tail comes from the arms of the Percy family, Earls and Dukes of Northumberland.
Each IBD County Page has or will have (where possible) the relevant Coat of Arms. This is made possible thanks to a fantastic heraldry website called the International Civic Heraldry Website. Sometimes a description is not given due to lack of information, so if anyone could help it would be greatly appreciated. You may visit this superb site by using the link below.
©2008 to Present Date IBD Internet Business Directory™