Powys Coat of Arms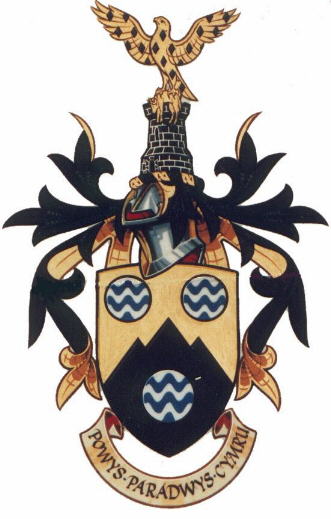 The gold symbolises the wealth of the area and black both mining and the Black Mountains. The fountain is a medieval heraldic charge, always shown as a roundel barry wavy Argent and Azure. It represents water and, therefore, both refers to the water catchment area and the rivers and lakes. The arms, therefore, contain references to the hills and mountains, rivers and lakes, water supply and industry.
The crest continues the colouring of the arms. A tower has been used in preference to a mural crown, which alludes to the county's military history and remains. From the tower rises a red kite, a bird almost extinct in Britain, but surviving here. The bird is semy of black lozenges for the former coal mining industry, while the golden fleece it carries is a reference to the importance of sheep rearing in Powys.
The motto is Welsh for Powys - the paradise of Wales.
Each IBD County Page has or will have (where possible) the relevant Coat of Arms. This is made possible thanks to a fantastic heraldry website called the International Civic Heraldry Website. Sometimes a description is not given due to lack of information, so if anyone could help it would be greatly appreciated. You may visit this superb site by using the link below.
©2008 to Present Date IBD Internet Business Directory™