Scottish Borders Coat of Arms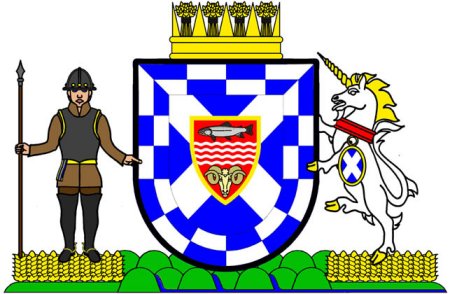 Azure; a saltire argent, surmounted, at the fess point, by an escutcheon gules, fimbriated or, charged with four barrulets wavy argent between, in chief, a salmon naiana rtam's head cabossed proper; a bordure counter comp;any azure and argentand, in base, supporters - dexter, a Border knight proper, wearing thigh boots sable, spurred or, a breast plate and helmet proper, girt with a sword, his dexter arm flexed at the elbow, the hand grasping a spear paleways, also proper, and, sinister, a unicorn argent, armed, maned and unguled or, and gorged of a collar gules, pendent therefrom an oval badge azure, fimbriated or, charged with a saltire argent.
The bearings, apart from the Area Council coronet, are a 're-grant' of the pre 1996 Borders Regional Council's (less the Regional Council coronet), which were new to Scottish civic heraldry and made no references to other arms. Community Councils with bearings - Coldstream, Duns, Eyemouth, Galashiels and Langlee, Hawick, Innerleithen, Traquair and Glen, Jedburgh, Kelso, Lauderdale, Melrose, Peebles and District, Selkirk and District.
This image is made possible thanks to the Heraldry Society of Scotland. IBD wishes to express thanks, and encourages anyone who is interested in Scottish history to visit this superb site by using the link below.
©2008 to Present Date IBD Internet Business Directory™