Refurbished Aga Cookers Reconditioned Electric Oil Solid Fuel Gas Agas Spares
5 Year Warranty 2 Oven 4 Oven Order Spare Parts On-Line Burners Lid Seals
England Scotland Wales UK Northern Ireland Irish Republic Cheshire UK
01477 - 533 723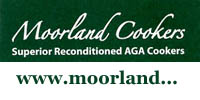 Click Image to Order Aga Spare Parts On-Line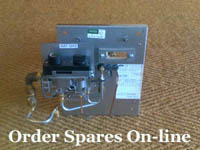 Aga 2 Oven Doors Open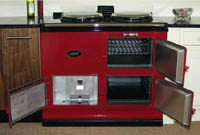 Aga Chrome Dome Lid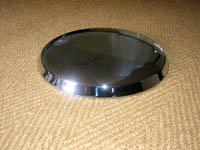 Aga Lid Liner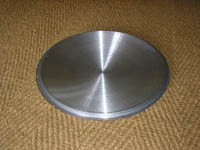 Aga Hot Plate Lids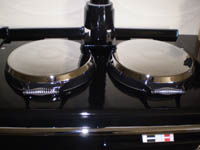 Aga Lid Seal
We Buy Your Old Aga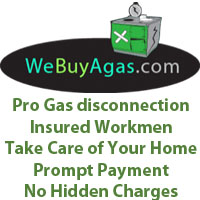 Aga Kettle on Hotplate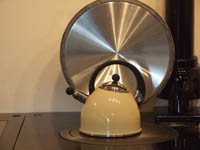 Aga Accessories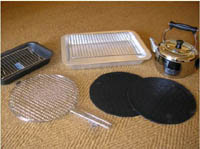 Refurbished Aga Cookers & Aga Spare Parts for Electric, Gas and Oil Fired Cookers
Moorland Cookers Cheshire showroom with 2 and 4 oven Refurbished Agas on dispaly...
Moorland Cookers Supply quality refurbished Aga cookers, the level of finish is such that they may be indistinguishable from a brand new Aga range cooker. We pay close attention to all the components and parts of the Aga making sure that everything is just perfect. You'll also have piece of mind with our 5 year warranty which reinforces our commitment to producing top quality, reconditioned Aga cookers with an as new appearance when they leave our workshops.
Castings are professionally shot-blasted back to their original condition
Re-enameled at the leading vitrous enamalers
You may choose from sixteen different colours
Burners replaced
Refurbished 2 & 4 Oven Aga Cookers Solid Fuel Gas Oil 13A Electric Cookers
Your Aga cooker can be converted to 13A Electric...
The standard Aga cookers are either solid fuel, gas or oil fired, but did you know they can be converted to Electric?
Moorland Cookers have pleasure in offering you the chance to own a fully reconditioned 13 Amp Electric Aga cooker fitted with a CE approved Newton Conversion Kit, available in the colour of your choice, and restored to the highest standard.
The great advantage to the Newton Conversion is that your Aga can be fitted to almost anywhere in your kitchen, as there's no need for a chimney. All of the controls are mounted on the outside of the Aga in a purpose built box and can be in a cabinet to either side of the Aga.
It also comes fitted with a 24hr timer which can be programmed to suit your needs, so it can be off through the night or while you are at work & be set so your Aga is back up to temperature for when you need it again. All elements are British made and come with a five year guarantee. Fitting & Delivery are not included in the price but this can be arranged.
Alternatively we can supply you with a Newton Conversion kit to convert your own Solid Fuel, Gas or oil fired Aga into a 13 Amp Electric model.
Aga Warranty - 5 Years on All Refurbished Aga Cookers
Moorland Cookers recognise what a great piece of engineering the Aga cooker is, with simple yet efficient components. We are also so confident in our own refurbishment skills that we offer a 5 Year Warranty on all reconditioned Aga Cookers leaving our workshop.
At Moorland Cookers we recondition the models of Aga that we consider suitable for the refurbishment process including 2 & 4 oven traditional models in solid fuel, Gas, Oil and Electric.
Moorlands Cookers Aga Spare Parts Shop
Moorland Cookers offer an Aga spare parts shop where you will find an extensive range of components for your Aga. We supply spares and accessories for PRE / POST 74 models and Standard models.
If you are unsure on the model of Aga you have please call us and we will be happy to assist, or use the link below to our spares and accessories page.
Part Exchange Your Old Aga Cooker
Moorland Cookers are able to arrange part exchange deals for supply of our reconditioned Agas. We will also buy almost any Aga regardless of condition - please call us for details.
We Buy Your Old Aga Cooker - With or Without Part Exchange UK Wide
Moorland Cookers want your old Aga, and we make it easy for you, and give you a great deal; visit our sister site, We Buy Agas.com.

Much can go wrong when selling your old Aga stove; gas leaks, not being paid, damage to your home and more. Fitters from Moorland Cookers Nationwide network are skilled and insured for your peace of mind.
Click through to our sister site, fill out our form or simply call us - we will do the rest for you.
Refurbished Aga Cookers in Northern Ireland & The Irish Republic
Moorland Cookers is pleased that their reputation for quality refurbished Aga cookers has spread to Ireland, and now have customers in County Cavan, County Kildare and Dublin. We welcome enquiries from anywhere in the Irish Republic and Northern Ireland.
Cooking with the Aga Cooker
Cooking with an Aga is a pleasure, the hotplates maintain a constant temperature, one for boiling and one for simmering. Another great feature is the humidity control of the ovens so food can be kept warmer for longer without drying out or being soggy. The Aga works on a 80-20 principle where 20 percent of cooking takes place on the hotplates and 80 percent happens in the ovens. The Aga stores heat through the castings of the burner. This heat accumulates in the ovens and hotplates giving you instant cooking ability at any time of day.
As an Aga has dense and thermally efficient insulation, fuel is used sparingly and the right amount of heat is released into the room to give a comfortable ambient temperature.
Refurbished Aga Cookers Reconditioned Electric Gas Solid Fuel Oil Agas 2 Oven 4 Oven Spare Parts England Scotland Wales UK Northern Ireland Irish Republic Cheshire UK

Moorland Cookers Limited
Sandlow Green Farm
Holmes Chapel Road
Holmes Chapel
Cheshire
CW4 8AS
Tel: 01477 - 533 723
| | | | | | |
| --- | --- | --- | --- | --- | --- |
| Aga | Reconditioned | Cookers | Refurbished | Electric | Conversion |
| Holmes Chapel | Cheshire | England UK | Wales | Scotland | Ireland |
| Irish | Republic | Northern | Ireland | Eire | Britain |
| 2 Oven | Aga Cookers | 4 Oven | Solid Fuel Agas | 2 Hotplates | 2 Hobs |
| 5 Year | Warranty | Part | Exchange | Your Old | Aga |
| Oil Fired | Gas Fuelled | Solid Fuel | Aga Cookers | Traditional | Deluxe |
| Newton Conversion Kit | Wide Colour | Choice | Enamel | Finish | Balanced Flue |