Rail Safety Critical Staff PTS (Personal Track Safety) Training Anti Slip Flooring
Non-Slip Products Link-up Approved Railway Contractors Cheshire England UK
07788 - 563 069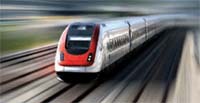 Qualified Supplier NO.26004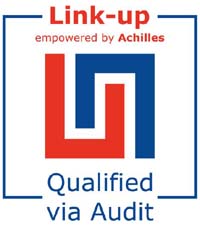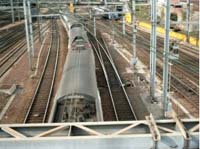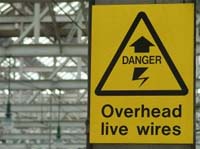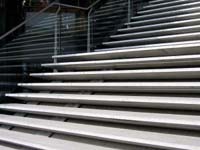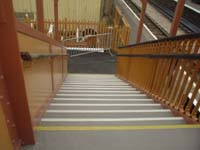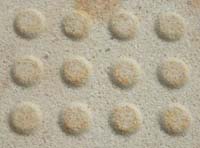 Rail-Force suppliers to the UK Rail Industry: Link-up approved Railway Contractors
Services include Safety Critical Staff, PTS Training Certificates to Station Refurbishments
Rail-Force Suppliers (Macclesfield) Ltd are fully Link-up approved suppliers to the UK Rail Industry with over 40 years experience. Rail-Force are a multi package railway contractor; Rail-Force have completed projects throughout the UK including England, Scotland and Wales. Products and services include:
Safety Critical Staff
PTS (Personal Track Safety) Training
Station Refurbishments including Tarmacadam and Drainage
Grip-Tread: Full range of Anti Slip Products - Nosing's Treads Tapes and Panels
Tactiles (DDA Compliant)
Pultruded Gratings and Structures
Handrails and Balustrades
For more information, please read on or click through to our main website.
Safety Critical Staff and Personal Track Safety (PTS) Training
Network Rail is responsible for 20,000 miles of track, 40,000 bridges and tunnels and 9000 level crossings. This massive infrastructure is undergoing constant maintenance work from emergency repairs to large scale engineering works such as track replacement. All major engineering projects operate significant operationally, safety and budget challenges, which is never truer than in the railway industry. Railway industry projects are often complex, time sensitive and undertaken in difficult working conditions. All staff must be fully trained in working on or near the line, committed and motivated.
Rail force can supply qualified labour to the rail industry and also sponsor groups or individuals to gain their Personal Track Safety Certificate enabling them to work on the railway infrastructure.
PTS training course can take place in the following locations:
Bolton, Chester, Crewe, Liverpool, Lancaster, Manchester, Oldham, Preston, Stockport, Warrington, Wigan, Birmingham, Chelmsford, Hemel Hempstead, Croydon, London E, London EC, London N, London NW, London SE, London SW, London W and London WC
The PTS (Personal Track Safety) is a 2 day course, medical, drug and alcohol tests will be required. At the end of the course all delegates will:
Demonstrate their ability to interpret correctly Rule Book (number 2), Track Safety Handbook (TSH) and relevant local instructions when required to go on or near the line.
Demonstrate their ability to follow a safe system of work.
Contact Rail-Force on 07788 - 563 069 for more information or visit the main website.
Anti Slip Products Non-Slip surfaces Nosing's Treads Tapes Panels
Rail-Force supply and install a wide range of anti-slip products specialising in pedestrian floor and step safety. Slips, trips and falls are the most common injury in the UK, this risk can be minimised by the correct anti-slip products. Railway stations are a prime example of high pedestration footfall where these products are essential but we can also fit the same products in any office, factory or working environment.
Non-slip flooring is now essential for many businesses due to the health and safety act, requirements of the DDA (Disability Discribnation Act) and building regulations. Rail-force will be able to advise and install high quality, and more importantly, the correct product for the application.
Tactiles Pultruded Gratings and Structures Handrails and Balustrades
Rail-Force can supply and install a range of safety products from on-street blister tactiles to handrails and grated structure. All blister tactiles are manufactured to comply with DDA (Disability Discrimination Act) requirements, available in any colour with an anti slip surface.
Pultruded Gratings and Structures including anti slip panels and treads for Railway Station platforms, tramway platforms, walkways and bridges can be supplied and constructed by Rail-Force. All sheets are preassembled in our workshop to ensure alignment and colour match. Temporary platforms with or without handrails; whatever the project we always strive to provide value for money using our experienced staff and programming techniques.
We believe our growth is built into our order book and by having repeat clients who are satisfied with our quality and programme achievements. It is an exciting time to be working in our industry and we are offering our clients something unique within the rail industry and beyond.
Rail Safety Critical Staff PTS (Personal Track Safety) Training Anti Slip Flooring
Non-Slip Products Link-Up Approved Railway Contractors Cheshire England UK

Rail-Force Suppliers Limited
Unit 12 B
Marcliffe Industrial Estate
Hazel Grove
Cheshire
SK7 5EG
Tel: 07788 - 563 069
| | | | | | |
| --- | --- | --- | --- | --- | --- |
| Rail Force | Railway Staff | Safety Critical | Staff | PTS Training | Personal |
| Macclesfield | Cheshire | Track | On or Near the Line | Anti-Slip | Non - Slip |
| Flooring | Nosing's | Treads | Panels | Tapes | Decking |
| Tactile | DDA Compliant | Pultruded | Gratings | Structures | Handrails |
| Balustrades | Station | Refurbishments | Tacadam | Drainage | Link-Up Approved |
| Network Rail | Rail Engineering | Rail Track | Rail Infrastructure | Project | Management |
| Crewe | London | Birmingham | Manchester | Leeds | Glasgow |
| Edinburgh | Cardiff | Stoke-on-Trent | England | Scotland | Wales |