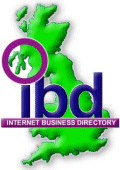 IBD INTERNET BUSINESS DIRECTORY
For Local British (UK) & Irish Businesses
Welcome to the Home Page of IBD Internet Business Directory
Why Advertise with IBD, What is in it for YOU?
please take a look at our short - 1 minutes 30 seconds - introductory video to see what makes IBD different from traditional directories, and what is in it for you should you choose to promote your business with IBD.
Welcome to the Home Page of IBD Internet Business Directory Ltd. IBD is an Internet Directory that is designed to suit its customers, not IBD. First of all, almost every customer will be found highly ranked in the World's major search engines. Secondly, their business information on IBD is just one click away from the search results, an almost unique point compared with most Internet directories. Furthermore, the said result displays information about that particular business, and nothing but that business - it could be your business!
Each business listed on the directory has a detailed description about that company, their products and/or services, their contact details and e-mail and website links if appropriate. A Standard Entry can contain up to a dozen relevant images, including the company logo, and has been described as a mini web site.
Each page has been designed to allow potential customers to receive enough information about your business to either contact you by telephone, fax or e-mail, or to link through to your main website for more information as appropriate.
HOW TO USE IBD INTERNET BUSINESS DIRECTORY:
There are two ways to use the directory either click on the search box above, typing in the product or service that you are looking for, followed by a location, e.g Accountants, Cheshire.
Or
Use the map or text links below to find a chosen County, follow the link and a list of Towns in that County will be displayed. Choose the Town you are interested in, and a list of businesses operating in that Town will be displayed.