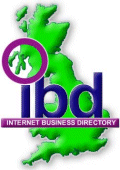 IBD Internet Business Directory
Testimonials
Written Testimonial for IBD from Jantex as a Video - This Could Be Your Business!

This is a 5 Star Reputation video for IBD, created from the written testimonial you see below, kindly supplied by Jantex Furnishing Company. Please click the 5 Star banner.

FACT: It went to page one Google for - ibd internet business directory reviews - within 48 Hours!
FACT: Similar happened for Conflux; search Google for - conflux consultants reviews. FACT: A Jantex customer returned a page one Google result for - jantex furnishing company reviews - within 48 hours.
These videos are produced by Conflux Consultants, this could be YOUR BUSINESS! IBD is so imressed, that MD Pete Clowes has joined Conflux to help other businesses achieve these amazing results.
For more information and more videos, call us on 01270 747 011, or Visit our Website
Justin Grocott of Grocotts Removals Stoke-on-Trent

Grocotts Removals are House and Small Office movers, based in Stoke-on-Trent in Staffordshire, moving people into and away from the area to all parts of the UK.
Hired Pete to sort out internet side of things as was previously not working well. Pete (IBD) first set us a webpage through his business directory and within what must of been only a few weeks we were page one google. I have since had Pete to build a new website for us as I was so impressed with his work. Excellent website and showing page one google already. Would highly recommend, IBD's Excellence shows in the amount of work he has generated for us. We would not hesitate to recommend IBD.
Justin Grocott, Grocotts Removals Tel: 01782 541 996
Janet McDonough, Director of Jantex Furnishing Company Ltd.

Jantex Furnishing Company supply and install Carpets, Vinyl, Wood and Laminated Flooring, Curtains, Soft Furnishings, Blinds, Tracks, Poles and Accessories, in homes, via the Jantex Retail Department, and in commercial locations via the Jantex specialist Contract Department.
Director Janet McDonough says 'since IBD took charge of our website our search engine rankings have greatly improved and we have been highly delighted with the results. More and more potential customers are using the internet as an information resource and IBD can certainly help maximise its effectiveness for any business. We would not hesitate to recommend IBD'
Janet McDonough, Director Jantex Furnishing Company Ltd. Tel: 01260 - 271 470
Tim Hope of T. Hope Tree Surgeons Congleton

I have three pages on IBD, and after about 18 months I now get more business from the Internet than all my other forms of advertising put together. I know this because I always ask where new customers found me, and I have now started asking what search engine they used, and what search phrase. I had an enquiry for felling a tree in Holmes Chapel - this one job alone more than paid for my yearly subscription to IBD.
As far as I am concerned, IBD is tremendous value for money and would advise anyone who wants to grow their business to talk to IBD.
To confirm the above comments are indeed from Mr. Hope, or to enquire about his Tree Surgery, Fencing or Garden Maintenance services, he can be contacted on 07932-985 240.
Networking Profit - Business Networking Training by Ewan Sturman

Networking Profit run a series of networking training seminars which will teach you how to talk to other business people, and people in general, about building new relationships which benefit both parties. This creates a win-win situation which is essential in any business relationship. These remarkable courses are delivered by Ewan Sturman, one of the Country's few Certified Network Trainers. Here is what Ewan has to say about IBD:
I cannot speak highly enough of IBD Internet business Directory. When searching google.co.uk for - internet business directory - IBD occupies top slot. It is great to know i am talking to someone whose website is number 1 in Google, but i would prefer people to find my business, after all that is what i am paying for!
Thanks to IBD, my business is found all over the North of England for a variety of searches, resulting in enquiries from individuals to British Nuclear Fuels. These mostly result in firm bookings, increasing the profitability of my business - that is what IBD has achieved for my business and I am told, for many of its clients.
Les Spencer of Leave Safe Training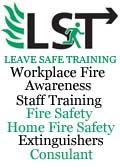 Leave Safe Training specializes in providing high quality fire training. Ex Fire Officer Les has 30 years experience as a fire officer and has many years experience in giving fire training to local organizations. Due to the Regulatory Reform (Fire Safety) Order 2005, no matter what type of business, size of building, work process or staffing level it is every employer's responsibility to provide adequate Fire Training to its staff.
Les Spencer has a regional advert with IBD, Les says 'After 30 years in the Fire Service in Cheshire I had many good contacts but with my Fire Training business I wanted to gain business not just in Cheshire but North Wales, Merseyside and the Wirral. My IBD page has given me the facility to target the area I want to do business in. Through my IBD page I am now receiving enquires from Cheshire and North Wales, including the counties of Denbighshire Flintshire and Gwynedd. I would not hesitate in recommending IBD.'
Please contact Les Spencer on 01244 - 509 997 for more information regarding all aspects of fire safety.
Jez McKenzie MD Filex Systems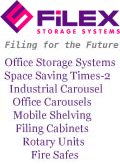 Filex Systems are a filing and storage solutions company offering bespoke office storage filing cabinets, suitable for any office and industrial storage requirement, for businesses small or large. Ask about our amazing space saving Times 2 Storage System.
I asked Pete at IBD to get my business up the Google rankings. He asked a few questions, then asked for my most important keywords and said ok, let's see what we can do, it will take maybe a couple of months before you start to appear in the search results. Never having been renowned for my patience, I was chasing Pete after a couple of weeks! Anyway, he called me a week later to tell me we were page one Google for office storage Staffordshire - I was over the moon, so well done to Pete and IBD, thanks very much.
In fact, I was so pleased I introduced Pete to Paul Weston from Profile Builder and produced the video testimonial below:
Please contact Jez McKenzie for more information about bespoke storage solutions from Filex Systems on 0845 - 116 1423
Jason Farr of Farrout Trading, Custom Paintwork & Plastic Welding
I have renewed my subscription to IBD for the third year running because IBD generates genuine enquiries that turn into work. The latest job to come in is a jet-ski for refurbishment and customised paintwork. As long as IBD generates work for my business, I shall continue my subscription - I would be foolish not to.
Andrew at Bellboy Print, Colour Digital Printers
IBD works - I get enquiries and business from it. At one point I did not do too well in Google, but was number one, page one, in yahoo.co.uk for - colour printers congleton. I guess this means that you do not have to be first page Google for the Internet to work for you.