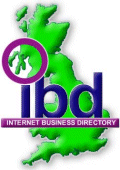 Links to Charity & Voluntary Organisations
Website Links to Charities and Voluntary Organisations
If you are a registered charity or voluntary organisation, and would like a link to your website listed on this page free of charge, please send your request to the Webmaster via the e-mail link below. Please state your position, and confirm that you have the authority to make such a request for inclusion on IBD, along with permission to use your company logo if appropriate, and the number of the charity.
---
EM Radiation Research Trust
The EM Radiation Research Trust is an independent body. The aim of the organisation is to provide the facts about electro-magnetic radiation and our health to the public and the media. The organisation is funded solely by donations and charitable status has been granted, registered No. 1106304.

The EM Radiation Research Trust is attracting interest from every corner of society - Members of Parliament, prominent journalists and editors, scientists, academics, doctors; as well as members of the public.
See our list of Trustees at our main website. Do you suffer from EHS (Electromagnetic Hypersensitivity)? Take our Test
---
Sanctuary for Veterans (S4V)
Sanctuary For Veterans (S4V) will provide respite and support for injured ex service personnel and their families and is scheduled to open in July 2012.

The founder of this Community Interest Company (CIC) Joe O'Connor was seriously injured in 1999, whilst on a Special Forces training exercise suffering a broken neck, after a 400ft fall down a Welsh mountainside. After spending years rehabilitating, following paralysis and trauma and the breakdown of his marriage, the next challenge was to rebuild his life. Having gone through this experience, the idea was born and Joe became determined to turn a negative into a positive, turning this dream into a reality. After all - A dream is a plan with a date on it.....
---
| | |
| --- | --- |
| | We will provide a rich variety of learning experiences and leisure time for children with additional needs to ensure that they will meet their full potential. We will uncover and encourage the gifts and talents present in every child. We serve Congleton and surrounding towns in Cheshire and North Staffordshire. |
---
Arch is a charity in North Staffordshire which provides accommodation, services and support for people who are homeless or at risk of homelessness. The organisation helps around 2,000 people each year from Stoke-on-Trent, Newcastle-under-Lyme and the Staffordshire Moorlands, including single people, families, women and children.

We aim to support anyone in our area who is disadvantaged and needs extra help, from people suffering from domestic violence, both men, women and children to people who become homeless, refugees and offenders.
---
Our aim is to relieve the stresses experienced by carers whose caring responsibilities may be due to a loved ones disability, illness or age. CEC provides a range of high quality services including respite care within the home, a palliative care service, support groups for those with a physical disability, early onset dementia or Aspergers Syndrome and a Young Carers project.

Being a carer can be rewarding but can also be a demanding and stressful responsibility. Our goals for the future are to continue to address the challenges faced by carers in their everyday lives and to enable them to have some normality in their lives.
---
| | |
| --- | --- |
| | Specifically, the Youth Charter tackles educational non-attainment, health inequality, anti-social behaviour and the negative effects of crime, drugs, gang related activity and racism by applying the ethics of sporting and artistic excellence. These can then be translated to provide social and economic benefits of citizenship, rights, responsibilities, with improved education, health, social order and environment. |
---
| | |
| --- | --- |
| | 1 in 500 children will be diagnosed with cancer in the UK this year. Tragically, 30% of these children will not survive. Through groundbreaking research, KidsCan is striving to reduce that figure but your continued support is vital. |
---
East Cheshire Hospice cares for adults suffering from life-limiting illnesses from which there is no cure. We care for the whole person, aiming to meet all needs, whether they are medical, emotional or spiritual or around the challenges of daily-living. We support families and carers throughout what is often a difficult period.

A registered charity, all our services are completely free. However, the Hospice receives less than a quarter of its costs from government and so has to fundraise almost £6000 every single day of the year simply to keep going. Please use the link to our website to see how you can help.
---
---
---
---
---
IBD Internet Business Directory Limited is a company registered in England. The company number is 06147034. The registered office address and main trading address is 27 William Street, Congleton, Cheshire, CW12 2EY. Managing Director Mr. P. Clowes. Company Secretary Mrs. J. a. Moss BA(hons) ACCA
'IBD' and 'Internet Business Directory' are trading names of IBD Internet Business Directory Limited.