Carpets Rugs Vinyls Laminate Wooden Flooring Online Wool Carpets Order FREE Samples - We Cover UK England Scotland Wales Ireland
Welcome to the IBD Web Page for Carpet 1st one of the UK's largest Retail Buying Organisations
Carpet1st has over 200 outlets throughout the UK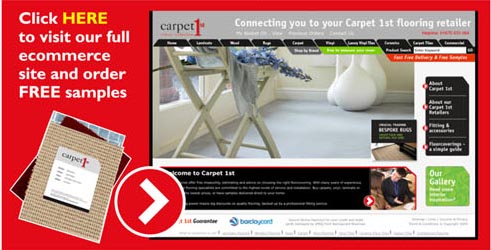 Carpet 1st is one of the UK's largest retail buying organisations with over 200 outlets throughout the UK, covering most counties of England, Scotland, North and South Wales and Northern Ireland, supplying our own collection of hand picked flooring ranges from British and European manufacturers. The flooring range includes Wooden floors, Vinyl and Laminate floors, Rugs and a wide variety of quality Carpets, including Woolen Carpets for domestic and commercial use. The range also includes quality Carpet Tiles and Luxury Vinyl Tiles.
Our huge buying power means that we can always negotiate the very best prices and pass these on to our customers with one major added benefit... Local Service.
Each Carpet 1st retail outlet is independently owned and operated ensuring that each customer has the benefit of dealing with a retailer who significantly values every sale.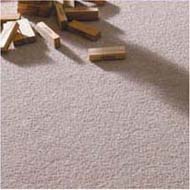 CLICK HERE

to see
our selection of wool twist carpets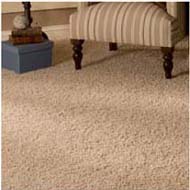 CLICK HERE

to order samples of
Deep Pile Carpets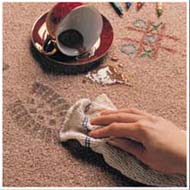 CLICK HERE

to order samples of
Stain Free Carpets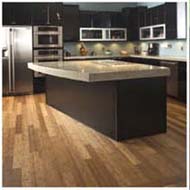 CLICK HERE

to order samples of
Vinyl Flooring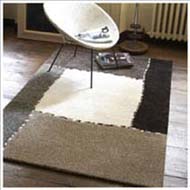 CLICK HERE

to order
Rug samples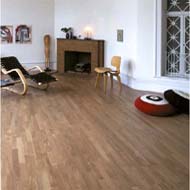 CLICK HERE

to order samples of
Wood Flooring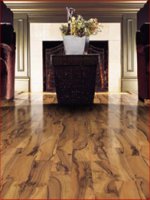 CLICK HERE

to order samples of
Laminate Flooring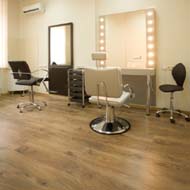 CLICK HERE

to order samples of
Vinyl Tile Flooring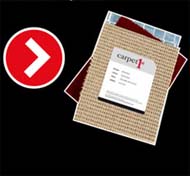 CLICK HERE

to visit our full ecommerce site and order FREE samples
Wool Twist Carpets - The most popular choice for capets in your home.

CLICK HERE

to see our selection of wool twist carpets
A twist pile carpet is made from yarn that has been tightly twisted and set to form a short close pile carpet with a slightly textured hardwearing surface. Twist pile carpets are produced in both plain and heather colours. Heathers are created using a combination of complimentary coloured fibres to obtain a natural tonal effect. The tight construction of a twist pile carpet gives superior resistance to flattening, and the ability to bounce back makes it ideal in heavy traffic areas.
Deep Pile Luxury Carpets - Add a touch of luxury to your home

CLICK HERE

to see our selection of Deep Pile Luxury Carpets
Deep pile carpets are becoming very popular, adding not just style, but also add sheer luxury to your home. Many are available in 4 metre and 5 metre widths and feel fantastic and sumptuous when fitted on a good quality underlay.
Very deep pile carpets can be extremely expensive when made from wool, so stain resistant synthetic fibres are the most popular choice for these carpets.
Stain Resistant Carpet - Worry free comfort

CLICK HERE

to see our selection of Stain Resistant Carpets
One of the most affordable and durable types of carpets available are made from a fibre called polypropylene. Polypropylene fibre is extremely stain resistant, abrasion resistant, and relatively inexpensive, making it a practical option for young families or where staining may be a problem. Polypropylene differs from other fibres in that the colour is added to the yarn at the time of making the yarn and not dyed. By using this process it means colour is 'locked in' to the yarn thus providing a carpet that is not only highly resistant to stains, but also fade resistant even in direct sunlight. Carpets made from polypropylene are also antistatic and bleach cleanable.
Polypropylene carpets typically offer significant stain warranties and homes with family or pet's can benefit from the reassurance that stain resistant carpets offer.
Vinyl Flooring - For appearance and supreme practicality

CLICK HERE

to see our selection of Vinyl Flooring
Vinyl flooring is a beautiful yet practical option wet area in the home, especially bathroom and kitchen areas. The majority of vinyl flooring is slip resistant and very easy to wipe and keep clean. Vinyl flooring comes in 2 metre, 3 metre and 4 metre widths in a number of decors and textures to choose from, including ceramics, marble, metallic and unique wood effect designs.
Rugs - Transform your room for very little...

CLICK HERE

to see our selection of Rugs
Rugs are the quickest way of giving your room a new look, a rug being a stylish way to make a statement in your home. If you have a wood or laminate floor then a rug offers an oasis of comfort, yet provides a focal point for the decor.
With a huge choice of colours and designs, rugs can be contemporary, traditional, classical or designer, from natural weaves, woven wiltons to outrageous deep pile luxury, and all at very affordable prices.
A number of fibre options are available including:
WOOL: with the greatest depth of colour.
Polypropylene: with exceptional stain resistance.
Acrylic Fibre: a good quality acrylic yarn will give a rug years of wear, it is also stain resistant, soft to touch and can offer more vibrant colours than wool.
Viscose Fibre (Art Silk): This is a fibre that is used to produce rugs that have a silky sheen, it is normally used in Indian and Chinese shaggy textures and is used as highlight colour in many modern designs.
Machine Made Rugs: Most rugs are produced on High Tech Wilton face to face looms using Polypropylene, wool or viscose fibres.
Hand made Rugs: are available as hand knotted or hand tufted rug. A hand tufted rug is quicker to produce therefore are available at lower cost than their hand knotted counterparts. Generally, whether rugs are hand woven or hand tufted, the more complex designs are the most expensive.
Wooden Floors - the ultimate flexibility and durability in flooring

CLICK HERE

to see our selection of Wood Flooring
If you have ever lived in a home with a wood floor you understand the beauty of having wood floors. More and more home builders are building homes with wood floors because of the look, the natural beauty, the ease in care and the warmth it brings to a home. When you enter a room, your first impression of it is made from the floor upwards. It is essential to get this right, and by fitting hardwood flooring, you have solved the most difficult and important part of making an impact. Wood flooring gives you the ultimate in timeless elegance, flexibility and durability. Its hard wearing qualities and range of styles make it perfect for any room in the house.
Laminate Floor Coverings - up to date design trends and easy installation

CLICK HERE

to see our selection of Laminate Flooring
One way to add value to your home is to consider laminate flooring installation. Laminate floors combine the beauty and elegance of hard wood, or tile floors with the easy maintenance of linoleum or vinyl flooring. Constructed from a high density fibre (HDF) wood board topped with a wood or stone pattern, laminate flooring is incredibly durable. Resistant to scratching, scuffing and burning, the beauty of laminate floors will last a lifetime. With today's constantly changing interior design trends, the easy installation and variety of laminate flooring is a popular choice for home designers.
Luxury Vinyl Tiles - the latest in flooring technology

CLICK HERE

to see our selection of Vinyl Tile Flooring
Luxury Vinyl Tiles use the very latest flooring technology; the application of superior quality stone effect and wood effect photographic film to tiles and planks combined with a tough polyurethane wear layer coating which gives exceptional stability and strength. Luxury Vinyl Tiles are perfect for any room within a home; from kitchens to bathrooms, living rooms to bedrooms, the range is vast. Wood designs can feature exotic wood species that are extraordinarily beautiful but too delicate for utility and wet areas, ceramic designs captures the best features of a ceramic floor tile; durability, design and a real grout effect without the disadvantages of being brittle, difficult to install or cold to the touch.
Carpet Tiles - Commercial flooring and expert installation.

CLICK HERE

to see our selection of Carpet Tile Flooring
Choosing new flooring for your place of work can be a difficult task. There are many things to consider, such as whether to go for hard flooring or carpeting? Hard flooring can be handy if you are working in an environment which needs to be regularly swept, but many offices and industrial workplaces choose carpet or carpet tiles as their flooring of choice. Carpet tiles, whether they are office carpet tiles or industrial carpet tiles, are a very flexible kind of flooring because they are so simply installed and are easy to fit to any size or shape of room.
Experienced inspection at the initial survey can highlight a variety of problems from damp and damaged floors to irregular or contaminated surfaces. Problem floors only remain problems if they are covered over. Proper, clear advice and subsequent treatment will give long term performance which will be advantageous to us, the installer and you, the client.
Domestic Commercial Office Carpets Wooden Laminate Rugs Vinyl Flooring Carpet Tiles Free Samples - England Scotland Wales Northern Ireland UK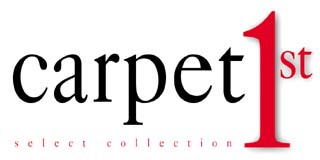 Metro Group, Metro House
21 Chorley New Road
Bolton
Lancashire
BL1 4QR
Tel: 01204 - 393 539
Fax: 08717 - 145 136
| | | | | | |
| --- | --- | --- | --- | --- | --- |
| Wool Twist | Carpets | Rugs | Vinyl Flooring | Buy On-Line | Free Samples |
| Carpet 1st | Buying Group | Wooden Floors | Laminate | Carpet Tiles | Vinyl Tiles |
| England UK | Scotland | North Wales | South Wales | Northern | Ireland |
| Local | Full Fitting | Service | Suppliers | Safety Flooring | Installation |
| Office | Commercial | Contract | Flooring | Domestic | Home |
| Brintons | Axminster | Wilton | Karndean | Kahrs | Amtico |
| Beech | Maple | Oak | Iroko Ash | Merbau | Hardwood Flooring |
| Tufted | Deep Pile | Flatweave | Natural | Various | Colours |
| Bedroom | Lounge | Kitchen | Dining Room | Stairs | Hall |