Physiotherapists Stroke Rehab Sports Massage Injuries Neuro Physiotherapy Injuries Scar Reduction Posture Realignment Improving Mobility Exercises Stability Training Macclesfield Cheshire UK
01625 - 460 382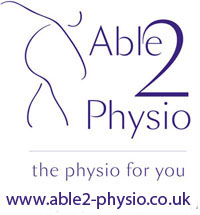 Health & Care Professions Council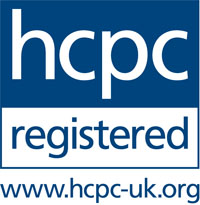 Holistic approach
Treat the Whole Person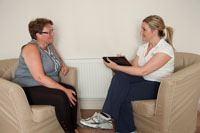 Stroke Rehab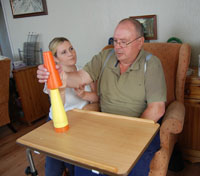 Neuro Physio Treatment at Any Age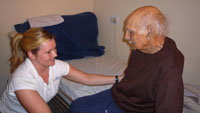 Relaxing Massage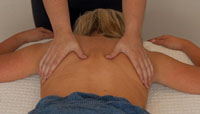 Sports Massage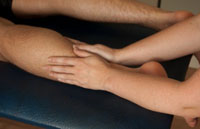 Sports Injuries Treatment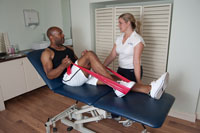 Scar Reduction Treatment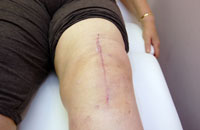 Core Stability Training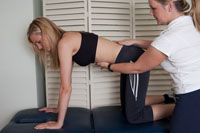 Postural Realignment MOT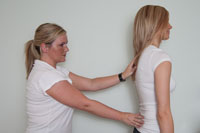 Restored to Fitness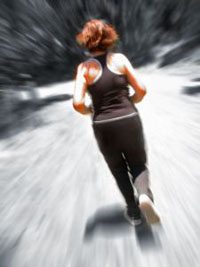 Physiotherapists Stroke Rehab Sports Injuries Massage Macclesfield Cheshire
Physiotherapy is very effective in treating a large range of conditions or injuries...
Vickie Cork heads Able 2 Physio in Macclesfield, and in many ways she IS Able 2 Physio. In many pictures on this page, and on her main website, you will see Vickie at work treating her patients. She has instilled an ethos of taking an holistic view to treatment, not just focusing on the particular part of the body with the problem, but treating the whole person. They always endeavour to help you if it is within their means and will liaise with other medical professions if it is deemed best for the patient.
Physiotherapy is very effective in treating a large range of conditions or injuries. We commonly treat back and neck pain, sciatica, frozen shoulders, knee pain, arthritis, joint replacements, fractures, help with stroke rehab, treatment for sports injuries and much more.
Do any of these apply to you?
I am in pain
My joints are stiff or swollen
My movement seems limited, less than normal
I have an exercise plan, but am unsure if I am doing it correctly
I have just come out of hospital
I recently had surgery
My scar is painful, thickening, tight or very visible
I feel weak, unable to do what I normally do
No post surgery plan
I feel my recovery is too slow
Need help with certain normal activities
Relief for knotted tense muscles, aches and pains
These are just some of the difficulties that your physiotherapist can help you overcome, by giving you support, motivation and continuity. The aim is to always work with you to help achieve your goals, on a sometimes very dificult journey.
It gives a real buzz, and a feeling of professional pride when a patient says something like
'thank you so much, I feel like I have my life back' - Yes!!
Stroke Rehabilitation Physiotherapy in Macclesfield Cheshire
Able 2 Physio works with you to help you to regain the use of your body, and relieve any pain you are suffering with after a Stroke. The earlier you start your Stroke Rehabilitation, the less 'Bad Habits' you will accidentally pick up (as your body tries to compensate for what has happened to it) and the greater potential you have to get back control of your body.
We introduce and guide normal postures and patterns of movement back into your body, gradually encouraging you to do them yourself once more. This way, you can start to do the things you used to enjoy and find so easy, like walking around, picking up objects such as a cup of tea.
Neuro Physiotherapy in Macclesfield Cheshire
Neuro Physio is physiotherapy treatment for conditions which have affected the brain or spinal cord. For example, Multiple Sclerosis (M.S), Parkinson's disease, Spinal Cord Compression, Stroke, Ataxia and many more.
Neuro Physio will analyse how your body has been affected and work to strengthen weakened muscles, mobilise stiffened joints and help you to improve your functional abilities again.
Relaxing Massage - Sports Massage
Massage is a highly effective way relieving your aches and pains immediately...
Able 2 Physio offers you two types of massage, depending on your individual needs. Everybody loves a nice massage - so why don't you treat yourself to one?
Relaxing Massage:
Able 2 Physio offers a lovely relaxing massage with the benefit of an increased understanding of why the muscles may be tense. So you not only get a welcome break from the stresses and strains of your busy life, but the added benefit of treating the underlying cause of your tight, knotted muscles, giving you that blissful post massage feeling.
Sports Massage:
Balance is vital in sport. During Sports or any form of exercise, you can overuse some parts of your body and create an imbalance in the muscles. This can lead to poor performance or even injury.
Sports Massage is effective in increasing blood flow, releasing muscle tension and restoring balance to your body. This reduces the potential for stress in your joints, ligaments and tendons so helping to prevent injury. It is also effective if you are just returning back to sports after some time out.
Treatment Therapy for Sports Injuries in Macclesfield Cheshire
Sports injuries can happen at any time and at any level of the sport you are playing. It can also be a misleading term and can encompass any injury to the body at any time, such as falling over and twisting your ankle or over reaching or lifting something heavy and damaging your shoulder. Able 2 Physio will take a thorough history of the injury and how it occurred and then assess the area of pain and treat accordingly.
Please note after sustaining an acute injury follow the RICE rules of Rest, Ice, Compression and Elevation, and don't hestitate to seek medical advice if you are concerned it is a serious injury.
Scar Reduction Treatment in Macclesfield Cheshire
Following surgery, such as Knee replacements, Hip Replacement or Spinal Surgery the body heals itself by laying down scar tissue. This is a very effective natural process for closing the gap in the muscle and skin, but it can have very serious consequences if left to its own healing devices. Scar tissue is laid down by the body on the lines of stress. It is an ongoing process taking months to become a strong scar, and up to a year to be fully formed. It is influenced by the movement of the part of the body where it lies, adapting to the needs and function of the joint or body part.
Able 2 Physio can provide Scar Massage which has the potential to minimise the scar to a thin, flat almost invisible silvery line in the skin. It can also ensure that the right stimuli are put into the scar or body part to ensure the scar is strong, but flexible and not limiting movement or the function of the joint.
Core Stability Training Exercises in Macclesfield Cheshire
Many of our modern day luxuries may be a vital part of our lives, but they are helping to destroy our postures. For example, the way we sit in our favourite chair, the chair we have at work, sitting in cars etc. Core Stability is what our body has in order to maintain our shape and form, and to help to control our movements, making moving and our daily activities more easy and efficient.
Core Stability Training can help you tone your body and regain your optimum posture. This allows you shape up and find movements or activities easier and less painful. It does however take time and commitment to master, and must be continued in the long term with regular reviews and facilitation to maintain the benefits.
Posture Realignment in Macclesfield Cheshire
Able 2 Physio can give you a Postural MOT. This involves an analysis of your posture and we report back to you about where your 'Hot Spots' are. 'Hot Spots' are areas of your body that are probably already giving you some pain, or are likely to cause you problems in the future.
A Postural Realignment will also involve hands on treatment, palpating the spine and other relevant joints, in order to identify and start to reduce any stiffness in them. Gentle handling techniques will also be used to try and realign your posture during the session.
Basic Postural Alignment check - 30 minutes
Advanced Postural Alignment check - 60 minutes
so you can even arrange to get checked out in your dinner hour!
Physiotherapists Stroke Rehab Sports Massage Injuries Neuro Physiotherapy Injuries Scar Reduction Posture Realignment Improving Mobility Exercises Core Stability Training Pilates Macclesfield Cheshire UK

Able 2 Physio & Pilates
250 Park Lane Consulting Rooms
Macclesfield
Cheshire
SK11 8AD
Tel: 07869 139 088
| | | | | | |
| --- | --- | --- | --- | --- | --- |
| Physiotherapy | Physiotherapists | Stroke Rehab | Neuro | Physio | Massage |
| Macclesfield | Cheshire | Sports | Injuries | Scar | Reduction |
| Post | Operative | Treatments | Improving | Mobility | Clinic |
| Posture | Realignment | Core | Stability | Training | Postural MOT |
| Home Visits | FREE | Personal | Consultations | Hands on | Treatments |
| Personalised | Exercise | Programmes | Evening | Early Morning | Appointments |
| Holistic | Treat the Whole | Body Approach | Identify | Underlying | Problem |
| Relief for | Kotted Muscles | Stiff Swollen | Joints | Post Operative | Surgery Plans |