Bernie The Wedding Magician - Close up Table Magic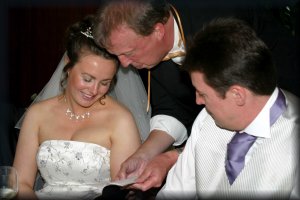 I am a magician, a table magician, a specialist close up magician, but more than that, a natural
performer who loves to entertain, specialising in the most demanding area of magic, close up magic,
magic at your fingertips. I am one of the top Midland magicians entertaining at wedding receptions
and corporate hospitality thoughout the East & West Midlands, Derbyshire, Cheshire, Staffordshire
and Greater Manchester.

Magic for Wedding Reception Entertainment

Add a touch of real magic to make your wedding reception extra special - close up magic is the ideal
wedding entertainment to add lasting magical memories of YOUR special day. I will meet and greet your
guests as they arrive, not only amazing them with skilful sleight of hand magic but encouraging them
to smile, laugh and have a great time.

Another touch of magic! I will amaze you and your guests, encourage and perform specialised close up
magic at each table, between courses. Helping to raise the atmosphere in the room as you and your
guests applaud, laugh and cheer. You will hear everyone enjoying your wedding.

Corporate Magic Entertainer

I am delighted to boast that I am one of the UK's top corporate magic entertainers, adding lasting
memories to a myriad of corporate hospitality events with amazing, close up magic.

Close-up magic is considered by many to be the most difficult area of magic, it has many different
names - sleight of hand magic, mix and mingle magic, strolling magic, table magic, etc - but they
are all forms of close-up magic, performed At Your Fingertips. I have practised and honed my skills
over many years, winning many specialised close up magic competitions.