Online Video Marketing Web Presenters Training Product Corporate Videos
Video Testimonials Video Tours - Covering England Scotland Wales and Ireland UK
Video Production Company covering UK England Scotland Wales & Ireland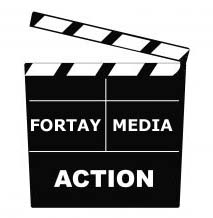 Fortay Media are a multimedia Production Company specialising in producing compelling business videos for the web. 12.2 billion Videos are viewed on You Tube every month. Interactive videos on your website conveying your important business messages are a very powerful medium. Online video should be a vital part of the marketing message for each and every business throughout the UK and Ireland.
Fortay Media offer video for the web in many different forms, video event coverage, training videos, product videos, video tours, and web presenters. We can assist with scriptwriting, professional presenters, voice over's and animation. It's very popular for business owners to appear in their own videos which also lets viewers 'get to know' the people behind the business, after all people buy from people!
Online Web Presenters - Effective Communication Tool for Interactive Websites

Online Web Presenters can really make your website stand out from the crowd. It's reported that you only have 10 seconds to capture someone's attention online when they visit your site. A moving online presenter allows you to introduce your key business messages, informing and directing visitors to important parts of your website. You are able to communicate a lot of information in a really short space of time, bring your site to life!
You can choose form our library of Web Presenters, or let the visitors meet the people behind the site by presenting the message yourself. The example on the right from SEGA Football Manager 2010 video game wanted to create some interest for the launch of the new 2010 version of Football Manager.
Animated Online Video - Use Animation for Viral Marketing & Short Video Clips

Animated Videos can add can make any subject matter interesting. It's a great way to illustrate a message, add something extra to a site or even create a viral marketing campaign, the only limits for animation is your imagination.
Whatever you video content, animation can work for you in many ways. As well as emphasising your message, animation can also be used to cut the cost of filming. A simple animation can work just as well as a full video tour. The example on the right from the Mint Directory uses a little animation to spice the video up.
Online Product Videos - Showcase your Products through Video Giving buyers Confidence

They say a picture speaks 1000 words so what does a video? An online Product Video is the best way to showcase your product to potential buyers. Online shopping is only going to increase in the future, it opens your business to a wider audience but buyers are unable to touch or feel the products. Online Product video gives buyers' confidence that what they are ordering online is what is going to be delivered!
The example on the right is a perfect example of an extremely tactile product (Rugs) which is showcased beautifully through video; a static picture does not do them justice.
Training Videos - Teach a Workforce or Customers Communicate Efficiently

Training Videos are without a doubt the best way to effectively and efficiently teach an audience, either workforce or your customers. You could commission a training video that can be used over and over again without extra cost, allowing the viewer to watch the video at their convenience and include visual aids such as animation to help the message stick.
Franks & Co Sheffield commissioned a series of training videos explaining various different information about patent and trademark law for their clients.
Corporate Online Video - Reinforcing the Company Brand and Message

Corporate Videos can be interpreted in many ways; our idea of a corporate video is internal messages that need to be spread throughout large organisations, both efficiently and effectively.
ARRIVA buses nationwide company employing thousands of people, needed a message spread internally throughout the organisation. A Corporate online video was the perfect way to inform such a large audience.
Online Video Tours for Hotels Workplace Showrooms Restaurants or Schools

If you have a location you want people to see, why not open their eyes with an Online Video Tour that can guide the viewer through your organisation. With Video sharing sites such as YouTube, Google Video, Vimeo and loads more basically acting as video directories for locations all over the world why not take advantage of these free resources and open the world's eyes to your organisation.
Video Testimonials - Real People in the Real World inspires Trust

Online Video Testimonials can improve your businesses integrity by genuinely allowing everyone to see how well your business operates by showing third party referrals. Video Testimonials show the actual customer explaining their experience which is much more believable and effective than a written testimonial.
Business for Breakfast North West wanted online video testimonials of their members in order to show how well networking has worked for them.
Video Production Tailored to your Business - Voice Over's Scriptwriting Presenters Video Hosting & Sharing
We understand that many businesses are just coming round to the use of online videos to create interest and spread messages. That's why we treat every client as an individual, with individual requirements and specifications. Every production we produce is bespoke to the client's needs.
Initially we will have a meeting to discuss your individual requirements, discuss presenters, locations and your key business messages. We have full Green Studio Facilities, we can discuss voice over's, video hosting, video sharing sites and scriptwriting. We will work with you to capture the right message for your business and continue to make adjustments until your happy with the finished video, animation, tour or testimonial.
Please visit Fortay Medias main website for more information and video examples, or contact us by Phone, Email, or Social Media links below.
Online Video Marketing Web Presenters Training Product Corporate Videos
Video Testimonials Video Tours England Scotland Wales and Ireland UK

Fortay Media
Bronze Dene
190 Haggstone Road
Sheffield
S35 0LN
Tel: 0845 519 0204

| | | | | | |
| --- | --- | --- | --- | --- | --- |
| Videos | Corporate | Product | Web | Presenters | Training |
| Sheffield | Yorkshire | Online | Video | Marketing | Company |
| Hotel Video Tours | Testimonials | Business | Event | Coverage | Animation |
| Production | Viral | Advertising | Videographer | Scriptwriting | Voice Over's |
| Green Screen | Studio facilities | Video Hosting | Key Business | Messages | SEO |
| Search Engine | Optimisation | Video Statistics | Video Sharing Sites | YouTube | Vimeo |
| Cheshire | Staffordshire | Derbyshire | Cumbria | County Durham | Nottinghamshire |
| England | Scotland | Wales | Northern Ireland | Irish Republic | UK |