Kitchen Wizard Replacement Kitchen Doors Drawers Knobs Refurbished Kitchens
Renew Doors Door Fronts Handles Work Tops Appliances Cupboards Cabinets Newcastle-under-Lyme Stoke-onTrent Staffordshire
Replacement Kitchen Doors Refurbished Kitchens Newcastle-under-Lyme
Why pay for a New Kitchen, when you can Refurbish your existing one?
Kitchen Wizard Newcastle-under-Lyme (and Stoke-on-Trent) provides a cost effective alternative for people who want the beauty of a new look kitchen without the mess, fuss and expense of paying thousands of pounds for a totally new one.
Kitchen Wizard are market leaders in the fast growing replacement kitchen door business. Kitchen Wizard in Newcastle-under-Lyme do not only replace doors, drawers, work surfaces and appliances to transform your kitchen, we make sure that all doors and surfaces ordered are made to measure, to the exact size needed by each customer.
The increasing focus on home improvements has lead to a demand for a low cost option in kitchen improvement. We can offer amazing kitchen facelifts at unbeatable prices in hundreds of styles and colours and fitted and installed by professional craftsmen.
Got a Dark Oak kitchen that is starting to look tired? How about replacing it with a Cream or Vanilla finish, or Light Oak, or Canadian Maple, or Beech, or a High Gloss White finish......the list is extensive, just our Bella Range has over 23 styles and 35 colours - you will be spoilt for choice, but we can help and advise you when making your choice for your new look 'Dream Kitchen'.
Kitchen Wizard will refurbish your kitchen to an amazing standard, to LOOK AS NEW, at a fraction of the cost of buying a new kitchen.
Need Finance for your kitchen refurbishment or new kitchen?
KW Kitchens use Ideal 4 Finance to spread your costs on our product range and services - call us to find out more on 01270 652 488, or Contact Us by E-Mail.
Replacement Kitchen Worktops Work Surfaces Doors Handles Appliances
Why Use the Kitchen Wizard in Newcastle-under-Lyme?
Kitchen Wizard Newcastle-under-Lyme, North Staffordshire supply an extensive range of door designs, textures and colours, along with a comprehensive range of handles, worktops, sinks and kitchen appliances.
Quality installations at affordable prices.
Let us show you samples in the comfort of your own home and allow us to do everything for you.
Choose the colour, style and handles for your kitchen from our great range.
Quotations produced quickly and efficiently by friendly, knowledgeable staff.
A trusted local company covering Newcastle-under-Lyme and Surrounding Villages.
Professional fitters with over ten years experience.
Frequently Asked Questions of the Kitchen Wizard in Newcastle-under-Lyme, Staffordshire
What about the age of my kitchen? - this does not matter, providing the units are sound.
How long will it take? - doors and drawer fronts are usually completed within a day.
Will ther be much mess? - We aim to leave the kitchen operational at the end of each working day, and cause as little disruption as possible.
Do you guarantee work done? - Kitchen Wizard offers a full guarantee of all products and services.
Kitchen Wizard Operatates in Newcastle-under-Lyme & Stoke-on-Trent
Kitchen Wizard covers ST1 ST2 ST3 ST4 ST5 ST6 ST7 ST8 post code areas of Newcastle-under-Lyme and Stoke-on-trent in North Staffordshire, and nearby towns and villages such as Alsager, Audlem, Baldwins Gate, Balterley, Betley, Biddulph, Blythe Bridge, Bradwell, Burslem, Chesterton, Clayton, Eccleshall, Endon, Fenton, Halmer End, Hanchurch, Hanford, Hanley, Keele, Kidsgrove, Knutton, Longton, Madeley, Red Street, Seabridge, Silverdale, Stableford, Talke, Trentham, Tunstall, Waterhayes, Werrington, Westbury Park, Westlands, Weston Coyney, Whitmore and Wrinehill.
Before & After and Testimonial from a satisfied Customer
The pictures below show the original kitchen, then the refurbished kitchen in white looking more modern and with a fresher look.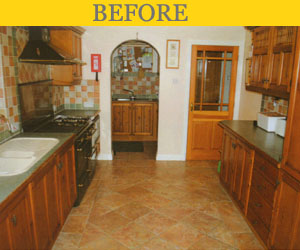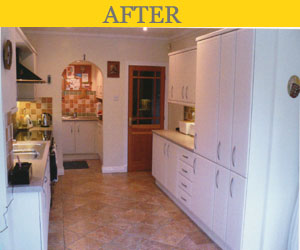 A delighted Mr. Teague from Cheshire says:
'A very friendly, efficient and professional experience from the initial consultation - with a wide choice of designs and finishes at competetive prices - to the on-time and on-estimate installation.'
Regards - Alan Teague
Contact Roger for a FREE consultation and Site Visit
Kitchen Wizard Replacement Kitchen Doors Refurbished Kitchens Renew Doors Door Fronts Drawers Handles Knobs Worktops Appliances Newcastle-under-Lyme Stoke-on-Trent North Staffordshire

Kitchen Wizard Newcastle-under-Lyme
18 Sefton Avenue
Sneyd Green
Stoke-on-Trent
Staffordshire
ST1 6HA
Tel: 01782 - 889 991
Mob: 07964 - 920 165
| | | | | | |
| --- | --- | --- | --- | --- | --- |
| Replacement | Kitchen | Doors | Refurbished | Kitchens | Worktops |
| Newcastle-under-Lyme | Staffordshire | New Drawers | Drawer Fronts | Door Handles | Cupboards |
| Work Tops | Cream Vanilla | Kitchen Sinks | Appliances | Wood | Granite |
| Cabinets | Lissa Oak | Moldau Acacia | Natural Oak | Beech | Canadian Maple |
| High Gloss | White | Black | Paprika | Cappucino | Plum |
| Mandalay Teak | Satin Olivewood | Light Walnut | Dark Walnut | Pippy Oak | Ash |
| Newcastle-under-Lyme | Sandbach | Stoke-on-Trent | Northwich | Middlewich | Winsford |