Kirwans Solicitors Birkenhead on the Wirral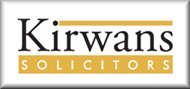 No matter what you need, make sure Kirwans Solicitors in Birkenhead on the Wirral is your first port of call.
The firm can provide you with an expert and friendly service in the following areas:

PERSONAL INJURY COMPENSATION CLAIMS ACCIDENT INVESTIGATION

Kirwans' personal injury department is one of the most established in the country and
has been helping clients for over 20 years. The team has experience in handling a range of compensation
claims including road accidents, trips in the street, criminal assaults, sporting accidents and paediatric
brain injuries. The department, which offers a NO WIN, NO FEE service, is headed by partner Simon Gibson
who can be reached on 0151 608 9078 or freephone 0800 525 035.

CRIME

Kirwans' crime team is available to help you 24 hours a day 365 days of the year. Whether you
need representing at a Police Station, Magistrates Court, Crown Court or any other Court, partner Paul
Ford and his colleagues can be contacted during office hours on 0151 608 9078 or by emergency hotline
on 07770 864 037.

FAMILY

Kirwans' family team is experienced in dealing with divorce and separation, property and financial
problems, disputes involving children, social services cases and domestic violence. The department is led
by Paul Hunt who can be reached by calling 0151 608 9078 or out of hours on freephone 0800 525 035.
Sarah Naughton-McCall is based at our Moreton office and can be contacted on 0151 677 3433.

CIVIL LITIGATION

Kirwans' civil litigation department will steer you through any legal issues at work and is particularly
experienced at dealing with cases of unfair dismissal. Partner Michael Sandys is waiting to take your
call on 0151 - 229 5604.

PRIVATE CLIENT

Kirwans has been helping clients buy and sell homes for almost 30 years. The department, headed up by
partner Jasper Dawson, also handles a wide range of matters including commercial conveyancing and
leasing, residential and commercial landlord and tenant matters, company and partnership issues, probate,
wills and estate planning - Jasper can be contacted on 0151 608 9078.

For over 50 years Kirwans Solicitors has been providing expert legal advice to thousands of clients,
many of whom have faced difficult and often emotionally taxing cases.

Led by its four experienced partners, the firm is looking ahead to the next 50 years by offering an
even more comprehensive and dynamic legal service.

Whatever your legal need, make sure Kirwans is the first call you make.
Our team of experts is waiting to hear from you.