MOT Testing Centres MOT Test Station Car & Van Servicing Vauxhall Service & Repairs Specialist Tyres Fitted Exhaust Fitting Wheel Balancing Oil Change
Mollard Motors Congleton Cheshire
01260 - 299 666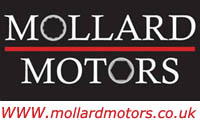 MOT Testing Station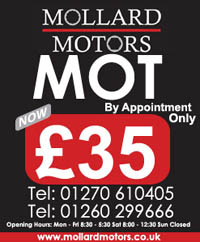 Summer Health check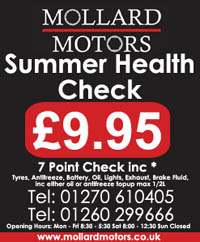 Interim Service & MOT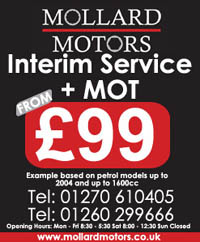 Interim Service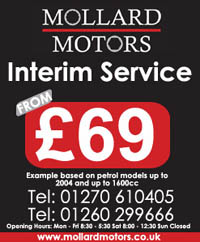 Winter Health Check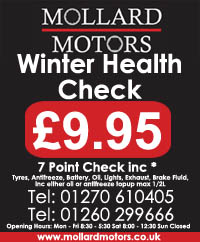 Service Tyres Brakes Exhaust Oil & Filter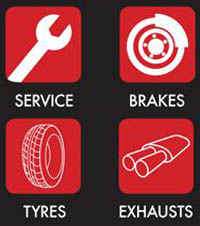 MOT Testing for Cars and Vans Vauxhall Service & Repairs Specialists in Congleton
Mollard Motors have many years experience with Vauxhall Vectra Astra Insignia Corsa...
David Mollard, ex Service Manager of the Grasmere Vauxhall dealership on Macon Way in Crewe has taken the plunge into business to launch a Service, MOT Testing and Repair Centre and bring back Vauxhall expertise to Congleton.
Dave, who has worked at the Macon Way premises for the last 23 years, is joined by some of the staff he worked with at Grasmere Vauxhall, and has assembled a team with a wealth of experience across the range of Vauxhall vehicles. 'The Aftersales side of the business at Grasmere enjoyed great success in all areas of the business,' said Dave, 'due to the fact that we had an excellent team with strong working relationships with both Vauxhall and our customers. That's an ethos I'm looking to reproduce here.'
'The expertise of the team, particularly with Vauxhall Cars and vans, in terms of service, MOT and repair is second to none, right through from administration staff, customer advisors and technicians.'
Mollard Motors brings Vauxhall expertise back to Lower Heath Congleton...
Dave has managed to recruit some of the former staff who will be familiar to the people of Congleton. Mark Rowley, one of the technicians, is a Congleton resident and has previously worked at the premises for over 10 years. Mark was raised in Congleton, is well known in the town and has earned a good reputation as an outstanding technician in the area. Mr Mollard has also managed to secure the expertise of Rob Durham, who ran the Congleton site on a daily basis for the last two years and is well known to local residents.
Terry and Rob will work closely together to re-build and expand the current customer base, continuing the consistent quality and genuine personal service to the current and future customers. Mollard Motors is a leading independent Vauxhall specialist, and the staff employed have years of previous formal training and have gained a wealth of experience across the Vauxhall range. Both Congleton and Nantwich branches carry a genuine GM parts stock and have access to supply any GM parts.
The MOT (Ministry of Transport) Test
Some things you can check yourself, like bulbs, depth of tyre tread just prior to testing...
MOT's are undertaken at garages authorised by the Vehicle Inspectorate to carry out the tests. They are easily identifiable by the blue, 3 triangle MOT Sign. For your convenience, we list below some of the equipment on the car or vehicle to be tested. You may wish to check some of these to save yourself time and inconvenience.
Lighting Equipment
Includes brake lights or stop lamps, main and dipped headlights, tail light and number plate lights. Also includes reflectors and direction indicators, both front and rear.
Braking System
The braking system is checked both front and rear, looking for worn brake pads, shoes, discs etc. and also includes the handbrake.
Steering System
Steering system including power steering, suspension front and rear, drive shafts and shock absorbers are checked.
Tyres and Wheels
Tyres are checked for depth of tread, and wheels are also checked.
These are just the main items, there are many others such as check for worn seatbelts, condition of wiper blades, windscreen washers, horn, exhaust system, general body condition emissions, and much more.
If your car or van passes the MOT test, it is a good indication that the vehicle is roadworthy, but remember:
the MOT test certificate relates only to the condition of the testable items at the time of the test and should not be regarded as evidence of their condition at any other time; nor should it be accepted as evidence of the general mechanical condition of the vehicle.
If you have any doubts, our trained technicians are on hand to help.
Vauxhall Cars Vans Service Repairs Tyres Battery Exhaust Wheel Balancing
Although Mollard Motors specialise in Vauxhall, we service a wide range of other makes...
Mollard Motors can also service and repair a wide range of other makes of vehicles using the latest modern equipment. Over the years, Dave has appreciated the importance of providing the same high level of service to all company and lease car drivers to ensure the minimum of down time. On this basis a while-u-wait service is available for all customers. A clean, comfortable reception area is available with complimentary coffee and tea; there is also free wireless internet access.
We are a Premier Black Circle Partner & Unipart Car Care Centre partner (UCCC)...
Mollard Motors is a Premier Black Circle Partner - the largest online tyre retailer in the UK. In just a few easy steps, customers can order their tyre requirements, choose a fitting centre and select an appointment at their convenience. Mollard Motors is also a Unipart Car Care Centre partner (UCCC) which provides a fast and the widest possible selection of top quality parts - all at highly competitive prices with a unique 12 - month / 12,000 mile warranty on parts and labour honoured by over 1,300 Unipart Car Care Centres.
Mollard Motors offer a full general servicing of all makes of car or van, as well as all models of Vauxhall cars. Our other services include MOTs, brakes, tyres, exhausts, oil and filter change, tracking and full diagnostics investigation and repairs all at competitive rates.
Mollard Motors' ethos is 'A garage you can trust'.
The company is rapidly building the business on this basis by providing 'total customer care' built on integrity, honesty and the desire to deliver a quality service at competitive rates. As an introductory offer, MOTs will be at a reduced price of £35,and free health checks are available strictly by appointment. Call Terry today on 01260 - 299 666 for a no obligation quote, whatever your motoring requirements.
For more information, please use the links below to e-mail us or to visit our main website.
MOT Testing Centres MOT Test Station Car & Van Servicing Vauxhall Service & Repairs Specialist Tyres Exhaust Fitting Wheel Balancing Oil & Filter Change Congleton Cheshire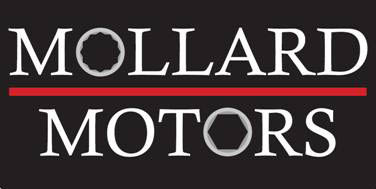 Mollard Motors (Cheshire)
Rood Hill
Lower Heath
Congleton
Cheshire
CW12 1NJ
Tel: 01260 - 299 666
Fax: 01260 – 277 806
| | | | | | |
| --- | --- | --- | --- | --- | --- |
| MOT Testing | Vauxhall | Car Van | Service | Repairs | Garage |
| Congleton | Cheshire | MOT Tests | Tyres | Battery | Exhaust |
| Oil Change | Spares | All Makes | Servicing | Lights | Bulbs |
| Summer | Health Check | Tyres | Fitted | Tyre Change | Brakes |
| Winter | Health Check | Braking | Steering | Systems | Checked |
| Ministry | Of Transport | Approved | Test | Station | Centre |
| Vectra | Astra | Insignia | Agila | Corsa | Meriva |
| Corsavan | Astravan | Zafira | Antara | Vivaro | Movano |