R E. Moss Butchers

Home produced beef, lamb, pork and award winning sausages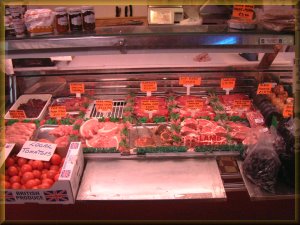 Ray Moss has served the local community in Congleton for more than 20 years, with a full range of
butchers products.

Home produced Beef, Lamb and Pork

Ray Moss is renowned locally for the quality of his home produced beef, lamb and pork raised on his
own farm free of hormones and growth promoters. None of his cooked meats have added water or preservatives.

Award Winning Sausages

Ray always has at least six different varieties of home made sausage on display, made to his own
recipe. These include cumberland sausage, tomato and basil, pork and garlic with black pepper,
golden rose, pork and leek, romany herb and many more. These are usually of the thick variety,
but thin pork sausage and pork and beef are also available.

His home made pies are delicious - meat and potato and steak pies along with home made sausage rolls.

Ray also produces his own gammons, beefburgers and cooked meats.
Try our ham on the bone, or roast beef and roast pork.

English and danish bacon is also sold, either smoked or un-smoked. This includes back, middle and streaky.

Some of our customers live out of town and prefer to place a telephone order to pick up on arrival or for delivery.

For more information please call us on the telephone number below.