The Navigation Real Ales from Beartown Brewery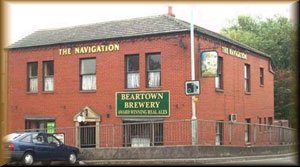 The Navigation, an ex-Wilsons pub, was acquired by Congleton's Beartown Brewery in
December 2001 and almost overnight transformed itself into one of the foremost cask
ale outlets in the town. Everything about the pub was been improved and the Navigation
became a relaxing, comfortable place in which to drink, probably for the first time in years.

This transformation would be impressive in itself, but it is in the range of beers on
offer that the pub really scores. In less than a week, the standard keg range
(including beers, lagers and stouts) and the usual boring bottles were all ditched.
In came six cask ales from Beartown Brewery. Bearskinful, Bruins Ruin and Kodiak Gold
along with Bearskinful are permanent bitters, and the superb stout, Polar Eclipse, and a
strong mild called Black Bear make up the regular beers on tap. Such is the demand that a
seventh pump had to be installed, which is for guest beers and other Beartown brews.
As if this is not eneough, The Navigation also supplies Belgium fruit beers and Krombacher.

Of course, none of this would be possible without the right people behind the bar and
in Angella Lindsay, Beartown have been very lucky indeed. Angella has run the pub with
impressive efficiency - firmly dealing with any troublesome customers but offering a
warm, friendly welcome to the many new faces the pub has seen.
Mention also needs to be made of daughter Chantal who is a regular face behind the bar,
and whose efficiency and charm have won over many of the regulars old and new.


The Navigation wins CAMRA's Greater Manchester Pub Of The Year Award!


Angella and Chantal of the Navigation were winners of the local CAMRA Pub Of The Year
award in 2003 (see above) and are over the moon at this latest win. This is what Angella had
to say about it. "The Navigation's two predecessors, The Nursery and The Railway went on
to reach the finals in the National Pub Of The Year contest, with the Nursery clinching
the top prize for 2001 and the Railway making runner-up in 2002. These are hard acts
to follow but let's hope the Navvy can make it three in a row."

Well done to both Angella Chantal.