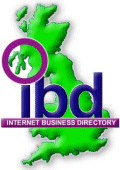 IBD INTERNET BUSINESS DIRECTORY
FREE ADVERTISING REQUEST
Page 1 of 3
For your Free adverisement with IBD Please follow the the instructions below.
Most internet directories work by placing your business in a category or type. When a user searches the directory for your product or services they will find your business in a list of other businesses offering the same products or services - ie your competition. These directories usually charge for a premium or enhanced listing where by you will appear at the top of the list the theory being that more people will choose you - however they may not.
IBD adverts are designed to get your business found independently of the IBD website. This means that your business can be found in the search engines - potential customers do not have to find the IBD website first; with the exception of FREE adverts.
Please select a Country followed by your County
Please select your Country. Then choose your County from the drop down lists displayed below and click the "GO TO NEXT STAGE" button. You will then be taken to another page where you can then enter your free advertisement details and select from the available towns/cities for that county.


| | | | |
| --- | --- | --- | --- |
| ENGLAND | SCOTLAND | WALES | IRELAND |